FRANCESCA FERGUSON
MAKE CITY
BOOK LAUNCH
DAN LECTURE

DATE & TIME
PaST EVENT

Urban Alternatives
Special Offer Compendium
German
Berlin
PAST EVENT
DAN LECTURE + MAKE CITY BOOK LAUNCH: An event for all those interested in urban alternatives. As a special offer, you can pre-order the new compendium for a 50% discount when you book a ticket until 27 March. The compendium will be out in May 2019.
WHO?
Francesca Ferguson is an expert for architecture, place management and urban alternatives. As the founder of the international MakeCity Festival for Architecture & Urban Alternatives and as a trained journalist, Francesca, who grew up in the UK, focusses on the current challenges of our cities: Which urban alternatives do exist and how can we remix the cities?
Lukas Staudinger is associate curator at MakeCity, architect, urbanist, editor and co-founder of POLIGONAL Agentur für Stadtvermittlung. He focusses on the topics historic and contemporary home construction, city planning of the post war time, building culture heritage and urban everyday life. Lukas teaches architectural design, building theory and urbanismus at several universities.
WHAT'S THIS ABOUT?
Contemporary cities are in the thrall of rocketing real estate prices, climate change, and relentless growth. MakeCity brings together highly diverse positions on urban change. The DAN LECTURE + MAKE CITY BOOK LAUNCH offers the possibility, to become part of the exciting debate about re-mixing our cities. In the lecture, the new book Make City: A Compendium of Urban Alternatives will be presented by the editors and current topics of place management and destination development will be discussed by various experts.
PROGRAM
Introduction to MakeCity by Francesca Ferguson, founder
Presentation of the compendium by Lukas Staudinger, editor
Discussion with various experts of place management/ destination development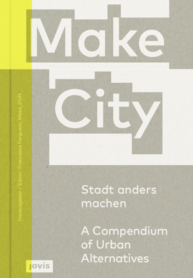 Look inside the book, authors and case studies
Selective juxtapositions shed new light on strategies and coalitions for city making as new social contracts are forged at every level of urban life. The circular economy begins in cities; local production – of food, of materials, of spaces – is at the heart of life cycles in cities, overcoming the strategies of planned obsolescence that currently govern our linear economic system. MakeCity lays out urban alternatives for new architecture, typologies, material flows, integrative and community-based planning, all of which are grounded in the notions of re-use; densifying and optimising existing structures. The what ifgives way to the how– with projects and propositions for making city differently.
CHAPTERS
01. Ground, Ownership, Financing Models and Developing the City
02. Governance, Strategic Alliances and Negotiating the City
03. Typologies, Third Spaces and the Porosity of Mixed Use
04. Hybrid Infrastructures, Climate Change, Land- and Foodscapes
05. Resources, Materiality and the Circular City
AUTHORS
Katharina Borsi, Benita Braun-Feldweg, Francesca Bria, Frauke Burgdorff, Marco Casagrande, Daniel Dahm, Tomás Díez, Teresa Dillon, Christine Edmaier, Francesca Ferguson, Jörg Finkbeiner, Marc Frohn, Anja Fröhlich, Dieter Grau, Olaf Grawert, Matthew Griffin, Susanne Hoffmann, Elise Hunchuck, Nadine Jessen, Britta Jürgens, Hermann Kaufmann, Eva de Klerk, Eike Roswag Klinge, Andreas Knie, Elke Krasny, Manfred Kühne, Renate Künast, Anupama Kundoo, Katrin Lompscher, Wolf Lotter, Clemens Niedenthal, Joanne Pouzenc, Sarah Prosser, Martin Rein-Cano, Steffan Robel, Tina Saaby, Florentine Sack, Florian Schmidt, Nicole Srock.Stanley, Lukas Staudinger, Tina Steiger, Rosario Talevi, Nora Unger, Jean-Philippe Vassal, Linda Vlassenrood, Roger Zogologovitch
CASE STUDIES
Ausbauhaus Neukölln (DE), Begegnungshaus Poppenbüttel (DE), Berlin Metropolitan School (DE), City Plaza (GR), Cloudburst Concretisation Masterplan (DK), Common Archipelagos, Limehouse 3 (IN), Die Gerichtshöfe (DE), Dong Xuan Center (DE), Everyone, Everyday (UK), Flexim headquarters (DE), Frizz 23 (DE), Green Roofs and Facades, BlueCity (NL), Großmarkt 9.0 (DE), Haus der Statistik (DE), Heinrich 73 | 36 (DE), Her(r)bergskirchen (DE), Humboldt Volcano (DE), IBeB (DE), ICCC (DE), Kraftwerk 1 (CH), Midway Studios (US), Old Kent Road (UK), Plateau Urbain (FR), Poligonal (DE), Sala Beckett (ES), Seestadt Aspern (AT), SESC (BR), Skid Row (US), SOS-Kinderdorf Berlin (DE), Stadtwerken/Pretty Plastic Plant/People's Pavilion (DE/NL), Superuse & Harvestmap (NL), Thaipark (DE), The Ruin Academy (TW), querstadtein (DE), Watersquare Benthemplein (NL), Wohnregal Waldenserstraße (DE)

PUBLISHERS
JOVIS
FOR WHOM?
The lecture addresses all those who are interested in current topics and future challenges of our cities, who actively live architecture and the city and who want to actively create the city: pupils, students, families, architects, urban planners, municipal decision makers, landscape architects, makers, and civic entrepreneurs.
TOPICS
Remixing the City
Place Management
ADDRESS
DAN CAMPUS / dan pearlman Group
Kiefholzstraße 1-2
Aufgang K2, 4. OG
12435 Berlin
QUESTIONS?
SHARE