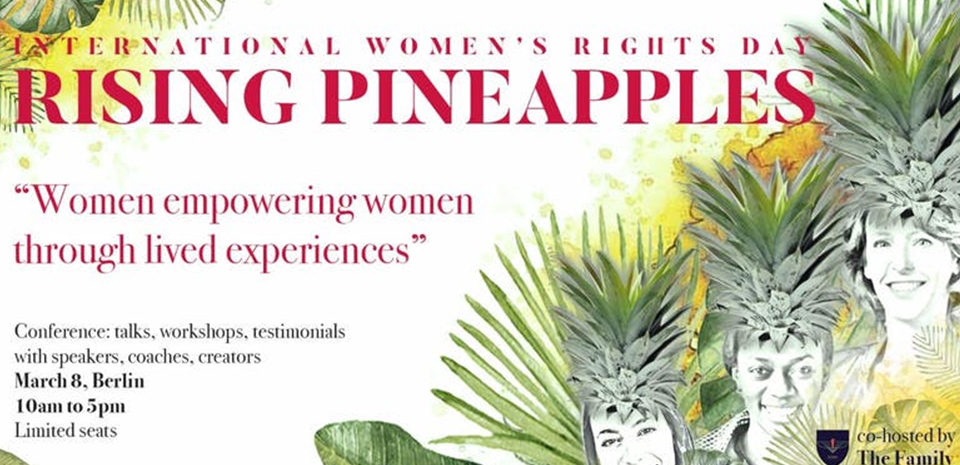 Delphine Mousseau
CONFERENCE

DATE & TIME
PAST EVENT

FEMALE LEADERSHIP
TICKET BOOKING
ENGLISH
BERLIN
WHO?
Delphine Mousseau is expert for retail und e-commerce and has more than 20 years of experience in the retail industry. With positions at Tommy Hilfiger as well as VP Markets at Zalando, Delphine has always followed her passion for supporting women in work.
WHAT'S IT ABOUT?
It's the first time that the International Women's Rights Day is a public holiday in Berlin: Come let's celebrate, and make it a day for women to step up their game!
Join a team of inspirational and leading women for a one-day conference. The "Rising Pineapples" movement: A time to stand taller, balance your crown and grow sweeter on the inside. You will be invited to reflect on the joys and difficulties of being a woman in today's world through short powerful talks, that will inspire you and equip you with essential skills.
We have one goal: To provide you with the motivation, tools, and network to reach your full potential, take your rightful place in the world and give you the keys to develop your wildest projects.
FOR WHOM?
A conference for all those who want to strengthen their female power in business.
TOPICS
Female Leadership
ADDRESS
The Family Berlin
Engeldamm 60
10179 Berlin
SHARE