EXPANSION STRATEGIES FOR BRANDS
Companies focus on expansion
Expansion is inevitable for companies wanting growth. Only global brands can succeed globally. In a globalized world, mastering the global market promises the greatest entrepreneurial success.
Expansion successfully managed
Firstly, companies need to understand their business and, secondly, the market they want to be active in. Intercultural expertise and professional knowledge of the market where the company is seeking to expand are essential. A good local network within all target countries slated for expansion is necessarily an advantage. Unrealistic expectations regarding a successful expansion can be avoided especially when working with an experienced partner. This partner should be able to provide almost all services from one source: from strategic planning, to design and implementation planning, to building services, fire protection and dealing with local officials. Market familiarity makes it possible to avoid in advance the kinds of errors made during the strategic planning phase that lead to higher costs down the road. For example, storage rooms in Austria must be designed so that they have daylight. You simply need to know this in order to be able to adapt the store design accordingly. With proper knowledge of the market you can work proactively and get started earlier.
Expertise and network as success factors
Since 2015 I've been working again in Berlin at dan pearlman. Prior to this, I was living and working in London for ten years. From London, I was fortunate to have overseen the European expansion of three brands with the highest sales per square meter: Apple, Tiffany and Abercrombie & Fitch. My experiences with and knowledge of markets range from the Anglo-American market to Europe and the Middle East. My network of reliable partners is similarly wide-reaching. In addition, I am not only registered in Germany as an architect, but also in England and France. Do you have a motto for your work? Design is more than just designing … it's about the process and the relationships you discover and establish during this process.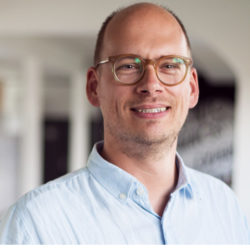 Managing Director at dan pearlman Project GmbH, on expansion strategies in international markets.