Experience Check Future Retail
A few month ago, the new bonprix 'fashion connect' store has opened its doors right in the heart of Hamburg's most visited shopping street. By using innovative in-store technologies, both advantages from online as well as offline shopping have been merged, creating a digital shopping experience that truly stands out in the world of stationary retail. But what kind of exceptional shopping experience are we talking about? As a long-time fan of online shopping and passionate store-stroller, I was very curious and wanted to get an idea of the new store. The future store has undergone an experience check!
From the outside, the shop looks like a usual fashion store but behindthe façade of the new bonprix 'fashion connect' store I discovered many digital surprises I rarely ever saw in stationary retail before. Already when entering the store, I encountered a young lady, introducing me to their airport-terminal-like check-in solution via the bonprix app. I already downloaded the bonprix app at home before my fashion tour started. The check-in process felt a little unfamiliar to me but shortly after I realized: digital check-in solutions are actually nothing new to me. Weather I am hopping on a train or airplane, using car sharing services or entering the gym – I use them on a daily basis. Starting my tour by checking in with the app, I knew I'd succeeded when I heard the well-known little beep sound. This little signal was the kick-off for my retail experience.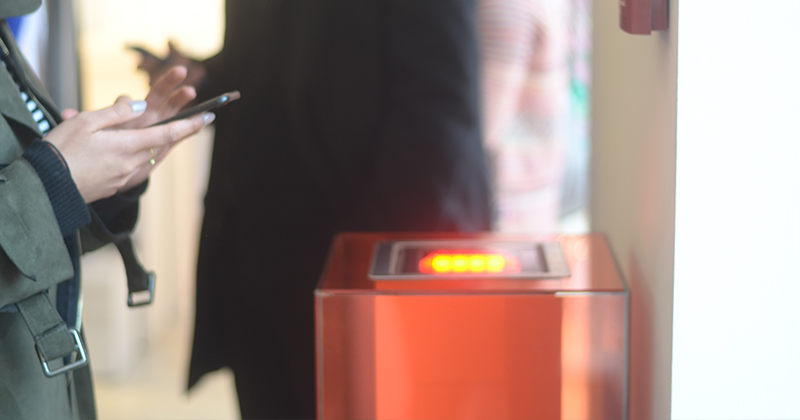 The distinct drive of digital innovation inside the store felt very unique and numerous explanatory stations enabled me to understand the information and buying process intuitively. When help was needed, an attentive staff member was ready to assist. At bonprix, they are called fashion assistants because they are able to fully focus on customer service. This special benefit is made possible through a one-item presentation which created a very tidy and high-quality store atmosphere. As a customer who often struggles with cluttered clothes, stressed staff members and long queues at the checkout, I really felt understood. The next surprise was waiting for me at the end of the small store: The fashion area is only taking one floor what made me understand that bonprix really took advantage of the space they had by introducing the one-item presentation. In terms of this feature, I think that bonprix is making a big step towards the future of product display.
As I made a find, I experienced a very seamless process between online and offline features: I simply held my phone over the price tag to scan the QR code and chose my size of preference on the phone. To counteract against the potential case of initial uncertainties on the client side, various instructing graphics are displayed on screens.
In next to no time, I found myself walking around the store, scanning items I liked by passing by. Subsequently, I decided against an immediate purchase through the fast-track but ordered a fitting room with the bonprix app. While my fashion assistant Felix was preparing the fitting room, I had some spare moments to relax at the lounge area inside the store that offers couches with integrated play-screens as well as refreshing drinks at the fashion bar. Only five minutes later, I received the awaited pop up message on my smartphone: Felix has prepared fitting room No. 9 for you! This really felt like visiting a high-fashion boutique. In a blink I was on my way to the room while a running timer on my phone created even more suspense.
Making a decision to purchase is one thing, but fittings between dust, clothe hangers and gloomy light often creates a serious source of stress for me. In this respect, bonprix seems to make upstream progress compared to its stationary competition. I experienced a fitting room that came close to the one of my dreams. I found four different shades of light, a large screen to privately make re-orders and an integrated closet that magically opens up, containing those follow-up orders. This service invited to play around and really accomplished to the shopping demands of a female fashion customer like me. Concurrently, I became very curious about the backstage progresses happening behind the magic closet and I have to admit that the desire of some sort of interaction with the service staff on the other side of the wall was still there. Personally, I can state that I still care about the human aspect of service inside a store. Luckily, I was able to find a button on the screen for calling a fashion assistant right away.
I still believe that the true gratification of stationary shopping isn't solely fulfilled by an excellent fitting experience but comes with successfully finding an item of desire. Those hits can be put inside the shopping bag that is hanging right on hand within each cabin – how attentive, bonprix! But y experience check isn't over yet. At the self-checkout, I found counters with integrated screens which created a very smooth and fast purchasing procedure with various user-friendly options to pay – the customer can choose from paypal to purchase on account.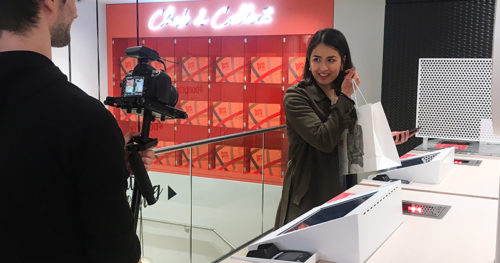 Because the whole journey passed by so quickly, I almost forgot to mention another key feature of the store: bonprix also integrated the trendy 'click-and-collect' feature. Like so, I am also able to order the right size of an item straight from home to the store. Those are then carefully and individually packed in a to-go shopping bag and available for pick-up in one of their fast-track boxes. To conclude: bonprix treats their female customers like queens and I would love to see this approach spread within the world of fashion retail.
Thank you, Teresa, for your great insights into the bonprix future store!