Transformation | New Work
At dan pearlman's DAN ACADEMY, we want to find answers to the crucial question of how we want to live and work. Especially now, this question is more topical than ever. On the one hand, we all are struggling for answers to the current challenges posed by the corona pandemic. On the other hand, we want to look into the future and encourage you to rethink society and economy with expertise, creativity and optimism. 
How can our society and economy benefit despite the current crisis mode?
During the crisis, it becomes clearly visible that a successfully implemented digital strategy as well as experiences with new work approaches and tools pay off. Companies that already enabled their employees to work flexibly from home are now profiting from established processes. Those who haven't digitalised sufficiently yet are definitely left standing. On the one hand, they are simply missing the technical requirements; on the other hand, the appropriate mindset is missing. Because: remote and digital work has to be learned.
My conclusion is: forward thinking done in the past now pays off. For all companies that have to catch up, a window of opportunities for fast and agile changes opens up now. That comprises more than the question of how to enable productive work from home. Right now, underlying processes can be evaluated and restructured. Strictly speaking, I am referring to the chance for companies to find long-term answers to the question of how we want to work. It's about the social elements in working together as a team, about corporate culture and leadership but also strongly about the physical office and space structures. Now, organisations can put their office structures to the test. Zonings of office areas, the locations for different work modes within the office and quick fixes up to construction works should be planned and realised now.
For me, a recommendable quick win is to engage into one's own brand and its visibility on digital tools and spaces. For an interim period, it might be quite charming to enter our employees' kitchens and living rooms while zooming or chatting. But a professionally digital brand presence of an organisation cannot stop at the corporate website. It definitely covers digital work tools as well. As an architect, I also include the specific corporate DNA when planning the physical office space for a brand. Thus, digital spaces should be treated with a similar, brand specific diligence. 
What does the crisis mean for new work according to new work principles?
Until now, new work means maximum agility and flexibility when choosing tools and locations. For instance, the spatial usage always corresponded to specific tasks which in turn recommended the best possible space. Workshop space or digital chat, working in the office or from home, co-working space or café – we were always free to choose. At the moment, we can't choose and have to reduce our work to the digital options. We go without social contacts and the informal but important exchange. At the same time, we have to refrain from our archaic instincts and our precious gut feeling. Can we actually stand each other? It's hard to answer this question based on a pure digital encounter.
Will the crisis impact the future of new work?
The current pandemic wave will probably affect us for quite a while. Aside from the everyday restrictions, a certain memory for thread is likely to settle in our heads. We will have an increased need for safety and want to be flexible and prepared for possible future pandemics.
In our work environments that live from interdisciplinary collaboration like new work spaces, open space offices and co-working formats, we have to put structures and safety packages to the test. The increased need for safety and flexibility pose new challenges for architects. We have to ask ourselves: What's the maximum number of employees allowed to work in the case of a pandemic? How can zonings, gates and safety levels be flexibly integrated and adapted to the situations? What kind of ventilation and air filtration systems have to be adjusted and installed in the future? What entrances and exits with which restrictions and controls will be needed? It's for sure that there will be architectural and technical solutions and certain behaviour rules. Especially in co-working areas, I can imagine health and tracking apps that check the health status on a daily basis and only allow to enter with a code when harmlessness is confirmed.
How do we tackle the future now? What helps?
It's our duty as architects to bring the new standards to the physical space without interfering with the pleasure of collaboration. Why that is important? Because I am convinced that humans are analogous beings. We need the physical experience of community in a real space. Although we will have proven that we can work from home and despite remote work receiving a broader acceptance, we will have more appreciation for the physical workspace and work community. Interpersonal and social interactions in teams and companies will increase in value.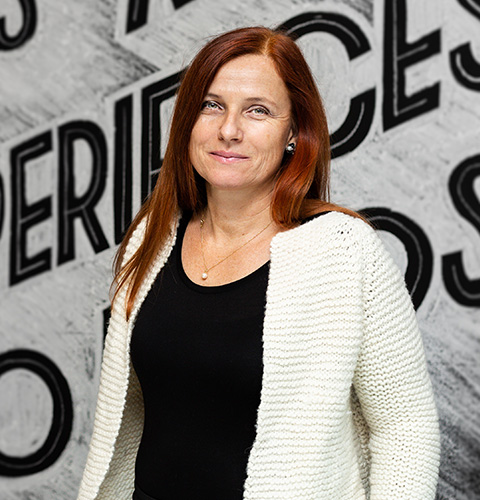 … Nicole Gietz-Haslinger is architect and Head of New Work Business Director at the strategic creative agency dan pearlman brand architecture in Berlin.