At dan pearlman's DAN ACADEMY, we want to find answers to the crucial question of how we want to live and work. Especially now, this question is more relevant than ever. On the one hand, we all are struggling for answers to the current challenges posed by the corona pandemic. On the other hand, we want to look into the future and encourage you to rethink society and economy with expertise, creativity and optimism.
How can our society and economy benefit despite the current crisis mode?
For one thing, we are experiencing an impressing helpfulness right now. The crisis creates solidarity. Former competitors are now working together, new co-operations are built. Competing thoughts are stepping back.
For another thing, we are experiencing a quantum leap in digitalisation. Even though digitalisation has been an abiding theme for more than ten years, discussions have been controversial. Now, a virus is overtaking sceptical people and is becoming a transformation accelerator. Companies have to be agile right now. They have to adapt quickly and maybe even put their business models under scrutiny. Those who have installed digital, agile and new work formats have a clear advantage now. And those who can, subsequently offer their services digitally or expand them. Everything that is digitally connected now builds bridges in society and economy.
My conclusion: The crisis is offering the chance of consciously using the forced lockdown to move together as a society and to get necessary changes off the ground.
What does this mean for stationary retail?
For stationary retail, two essential questions arise: The first one would be, if one can sell from closed stores and if so, how? The second question is, how one can digitally unlock the stores when one has ignored online presence until now?
Latest solutions are smart and diverse: drive-in retail like e.g. at Karls Erdbeerhof in Germany enables sales despite closed stores. Live stream shopping by hello-lisa creates bridges between closed shops and consumers at home. Moreover, Google local inventory ads can advertise available products close to the costumers that can be delivered by bike courier. An alternative for retailers can also be Instagram accounts where one can create an own shopping channel. Now is also the time for ecosystems where new platforms like wir-liefern.org connect small, local retailers and clients without involving giants like amazon. Even unusual co-operations like the Austrian online pharmacy medistoresupporting non-digital vinters in marketing were previously unthinkable and are possible now.
Creative co-operations also score when exhibition stand constructers offer their modular systems for zoning of retail drive in and pick up services. What now counts are quick and short ways and unconventional thinking.
Will the crisis also impact the future of retail?
I don't think that the retail world after the crisis will be like before. Rather, retail has to be prepared that the former frequency, especially in stationary retail, will be hard to reclaim.
From my point of view, there are several reasons for that:
On the one hand, especially older consumers and risk groups will have an increased need for security and avoid shopping masses since they will only be safe after a vaccination. On the other hand, even the last online shopping grouch is conditioned on online shopping now. Traditional demand purchases are likely to fully take place online. This is aggravated by the fact that a great proportion of the loss in sales is seasonal and cannot be caught up on later when the restrictions are abolished. This meets with a thinning finance coverage of retailers and the pre-existing problems in retail. This way, the crisis is becoming a fire accelerator.
In addition, a new way of thinking will guide consumers. They will question, if they really need to consume and if yes, what to actually buy. "Do I really need this, and which relevance does this product, this service have in my life?" A new form of conscious consumption will establish as sexy and contemporary. Currently, the world experiences first-hand how beneficial it is for our planet to stop the global consumption wheel. I think that a new quest for meaning and meaningfulness will drive the consumers in post-corona times.
What does this mean for retail?
In the future, there is no way around but understanding retail as part of the leisure industry. Retail is and will be comprehended as a leisure activity with which a real leisure and entertainment value is associated. That is why retail has to score with "experience per square meter". But that alone won't be enough. After social distancing, a new quality in the human and social togetherness will follow. The human factor will become the key element. Kindness and expertise, loyalty and trust are what counts. Good consulting, the personal dialogue, the knowledge of preferences and needs of customers plus the creation of trust and loyalty are becoming essential success factors. Customers can no longer be a cash element but will become part of the shopping family. From my point of view, the human factor will become the live insurance, especially for small retailers and manufacturers. In addition, everything that is local will appreciate in value. In the hyperlocal environment, we will discover our favourite stores and come to love the local suppliers. Neighbourhood is cool. In the future, retailers can score here when they redefine their production in Europe and Germany. A new form of co-retailing will arise from the formation of own communities. Thus, the success formula "experience per square metre" can be expanded to "community experience per square metre".
Why will the human play such an important role?
We are currently witnessing how consumers are becoming the patrons of retailers, hotels, gastronomy and cultural institutions. With gift cards like the ones from helfen.berlin, customers can support fragile businesses. Moreover, there is a variety of initiatives by clubs that collect donations by live streaming from empty venues, e.g. unitedwestream.berlin. A somewhat looking-glass world but one that will leave its marks. Providers and customers are living in a relationship on eye level. Those who support each other, like in a friend- or partnership, don't want to go back to being perceived as a point of payment for profit maximisation. On the opposite! Right now, companies can forfeit a lot and negative examples like adidas stopping to pay rents will be coined in consumer brains.
How do we tackle the future now? What helps?
Currently, a transformation window opens up where many things are possible. We don't have to process innovations like digitalisation sequentially when we shift into turbo mode and start being creative. When we manage to make a chance out of this crisis, we'll succeed. Otherwise, we'll remain with a dystopia of wasted chances and that will be economically and socially painful. Long-term thinking and quick reactions are needed now.
I wish that the crisis functions as transformation catalyst – for creative business models, new ecosystems, more digitalisation and more humanity. And my most important wish is the one for a sustainable and human world with a healthy climate. It's up to every one of us. Thus, my advice is: transform! Give space to disruptive ideas, try out new things and be a creative visionary. That creativity is the currency of the future now counts more than ever. We got all the possibilities to discard our actions according to "profit, people, planet". For me, it is about "planet, people, profit" – in exactly this order.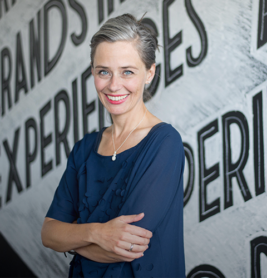 … is an expert in the retail and leisure industry and for destination development with a special focus on place making / branding. Her expertise makes her a sought-after advisor for start-ups, SMEs or big corporations, retail brands, and shopping centers.