Transformation | Shopping-Centers
The shopping center industry has long been in the eleventh hour. With the corona crisis, time has run out. While the centers shut down all stores except essential retail, most of their key tenants in fashion retail are fighting to survive. Is the witching hour yet to come? Empty stores, empty malls, empty inner cities – will the haunted atmosphere stay when the world is returning to normal life in any future time? What should not be mistaken: corona is not the arsonist in the conflagration of stationary retail. It's only the fire accelerant. As unforeseen as this crisis has been, as fertile was the ground in a beleaguered industry that has had a hard time in finding the right recipes for the changing customer and leisure behavior of people.
Shopping centers are risk groups. Corona is boosting all trends that have presented a challenge to them for quite some years now: online retail, digitalization, reduction of consumption. But even with the omnipresent online offline debate left aside, shopping centers are corona patients with serious pre-existing conditions.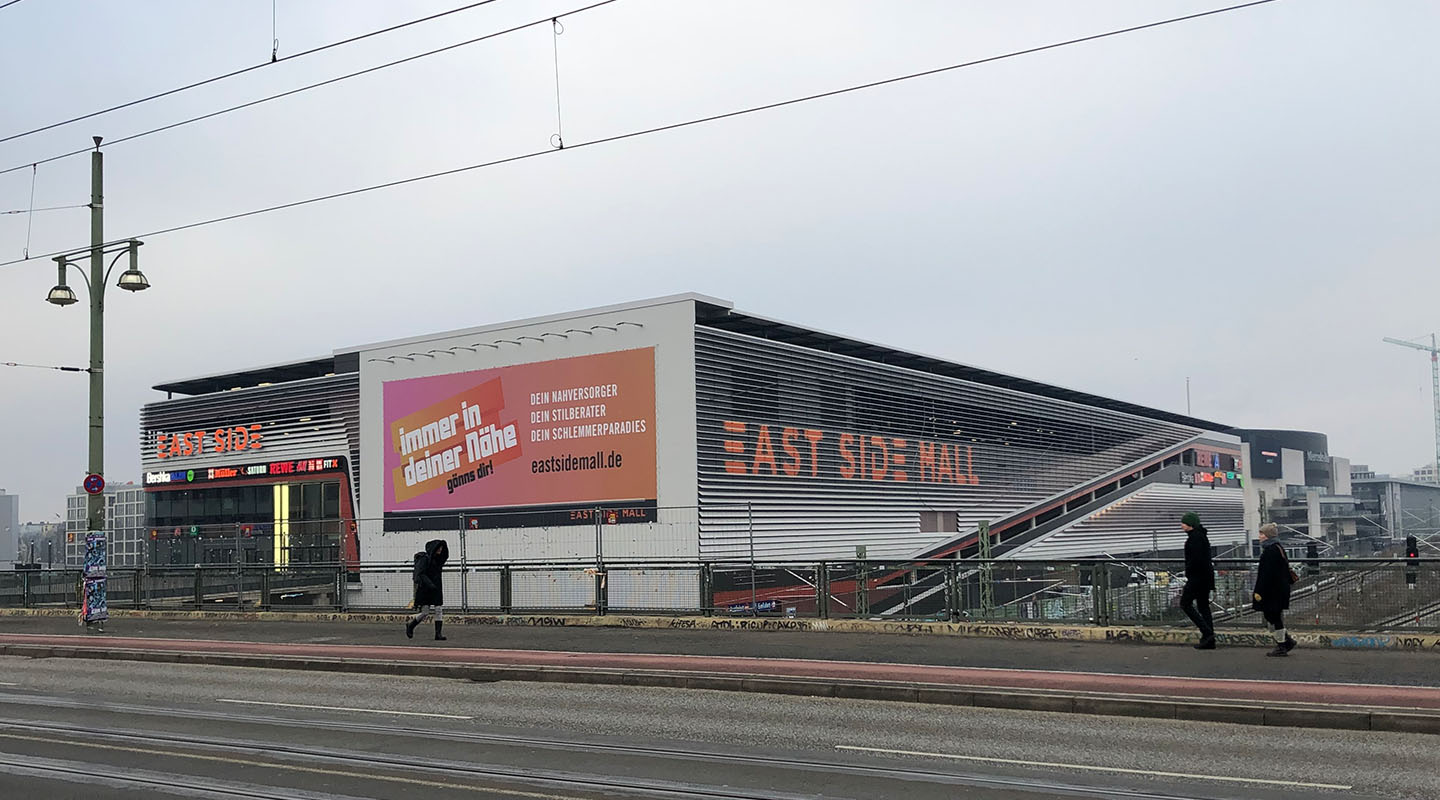 Pre-existing condition 1: usage and tenant mix
The retail offer of centers is dominated by chain stores and mid-genre fashion retailers. Most of these big mainstream fashion chain stores have a low profile and are either going bankrupt or apply for financial support now after years of struggling. That scenario was surely awaiting some of them anyway but not at the same speed as with the current national store lockdowns. The longer the government is trying to contain the virus, the bigger the death toll of stationary retail will be. In the end, this is not the only industry. Zalando's current development shows: selling low profiled brands only is not working either.
Offers need to be distinctive and tenant mixes are no exception here. The need for action is growing when looking beyond the pure retail horizon. Hardly any center is equipped with a considerable amount of non-retail usage except gastronomy. Te rededicate spaces is not easy. No other usage promises comparable lease. And the landscape of owners often is rather conservative and only becomes more eager to close the barn door after the horse has escaped, after the loss of property value can't be stopped.
But space for experiment sis necessary when the demand for retail spaces continues to decrease. Maybe this also holds for other industries. Currently, it seems to be hard to imagine that e.g. the demand for offices and co-working spaces will further grow when the economy is realizing that the widespread home office trial is successful. Mixed use is the big keyword. But there are rarely any good examples and even no real mixed uses as such. Even in centers where quite many non-retail usages are in place, like the CentrO in Oberhausen (Germany), we rather talk about an either-or-use than a real mix.
Pre-existing condition 2: amenity, experience and design quality
The relevance of a shopping center lies in the quality of the places. The key to success is amenity, experience. It has always been like that but yet, centers have a huge need to catch up here. It starts with the integration in the urban environment and an outward opening of the centers that both have been neglected for too long. Centers are rarely naturally integrated. And they are too often closed monoliths at the edge of the city center with big visible yet monotonous facades. Competing, not completing. Accepted, not loved.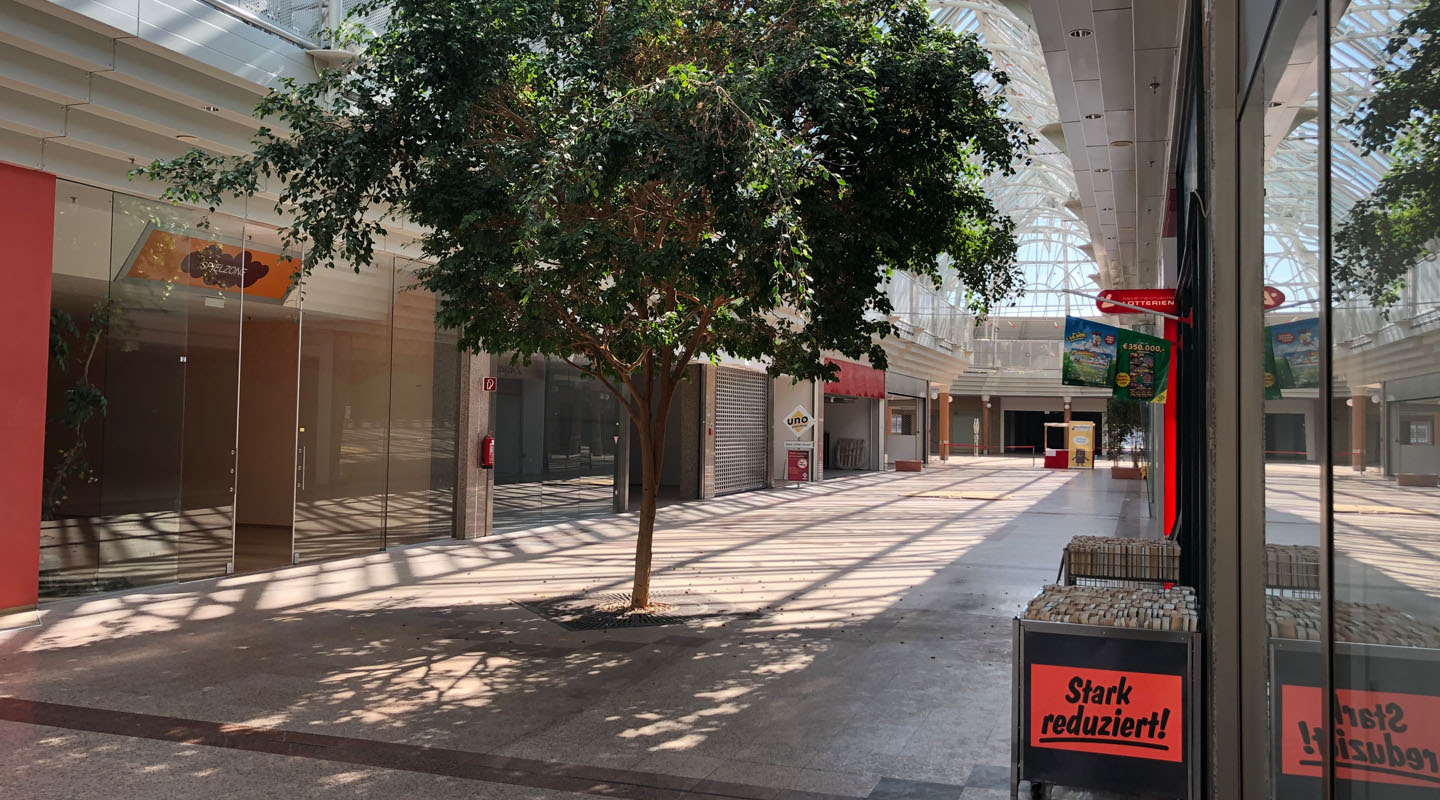 Also, inside the centers, dreariness is prevailing. Being profit driven and space optimized, most properties are missing the spatial experience. And you can't see the big ideas of interior design realized in any of the newly opened and revitalized buildings either. The outdated greenings and fountains from the nineties have been removed but were replaced with identity missing retail design. A comfortable atmosphere, amenity quality or even immersive installations, surprising and stunning spaces do no longer exist. In the nineties, shopping centers have been a spatial place. Today, they are normality. That's ok. One cannot say anything against that. But what can be criticized is that they are no longer trying to be something special.
Pre-existing condition 2: anemic profiles and missing market strength
Seen one, seen them all. The more shopping centers there are, the more this empty cliché sadly fits. With market growth, increased differentiation did not take place. On the opposite: tenant mix, interior design, services, communications all have become replaceable. A shopping center is a shopping center is a shopping center. Only very few have a visible connection to the place they are at. Where can you find a significant number of regional tenants? Where is a clear reminiscence of the regional architecture? Which center wouldn't be one-on-one relocatable to another city?
Under these circumstances, how can we create successful place making that is postulated in the industry? Turning "spaces" into "places" sounds good but is not just a pure act of communications. It presupposes that the product is arranged in a way to be positioned as an independent, unique place. Today, shopping centers are rarely positioned in somewhat form. They will need help to clearly distinguish themselves from the mainstream in order to set the foundation for a lasting place making that does not end with fashion shows and wildlife exhibitions.
Conclusion
Centers start beleaguered into corona time. And they will come out even more beleaguered. The big, purebred shopping icons like CentrO, AEZ or MTZ, maybe even the top 50 in Germany, will shake off and start operating again rather quick. But what's the outlook for the other 450 locations? Current efforts are of course focusing on keeping as many retailers alive as possible. Shared interests of retailers and landlords manifest in a close cooperation of HDE, GCSP and ZIA and a recently passed code of conduct. At least, these are good initiatives to cure severe symptoms.
The reopening
But how does it go on when it finally goes on? One doesn't need to be a prophet to foresee that the reopening of the stores will be accompanied by a unique discount battle, online and offline. Retails answer to full stocks has always been price reduction. And of course, there will be a certain backlog demand to go out and to go shopping. But it has to be assumed that the lockdown will have a lasting impact on the consumer behavior of people. Don't we get along quite well with buying less? Will we do this even more conscious in the future? Will we focus even more on quality and price? Especially, will we shop more sustainable? And won't we – to come back to the shopping centers – have higher expectations on the places where we go shopping when we got used to everything, we truly need, being available in the supermarket or via package delivery?
Each crisis does have chances. For shopping centers, the chances lie in curing their pre-existing conditions. There is the possibility that immediate investments have to be made which, in the best case, will redeem in the midterm or more realistic on the long run. Since the NOI in 2020 will be negative anyway due to loss of rents and perspectives without investments will be even more negative, what makes property less sellable, the long-term engagement for many owners might be an attractive alternative to "pretty up and abandon". Not the worst marked development by the way.
THE TO DOS 
Thus, to have a covetous property after corona crisis that people want to visit, where tenants want to lease spaces and that investors want to acquire, it needs:
1.A clear profile that differentiates the property from competitors. And a distinct identity which is related to the location and its history. A brand story and positioning that makes the property unique, regionally entrenched and that sets guidelines for
2.The usage and tenant mix which: reacts to the needs of the customers in the catchment area and gives space to identity defining, individual, experimental and non-retail usages which with regard to the tenants can also be unattractive. For example, it won't be possible to have significant entertainment elements in the assortment when you are not open to provide attractive spaces for leases that are lower than those chain store retailers would pay. A constant profiling has to take priority over short-term lease maximization. The focus has to be on securing the property value on the long run. It has to stay constantly covetous on the market for both tenants and investors.
3.The interior design has to be deduced from the brand story. It has to maximize the amenity and the experience quality. The leisure facilities will leave no stone unturned to lure us – having been couch potatoes for weeks – back. And we will well select the spaces where we want to spend our time, that excite, inspire and fascinate us. The interior design of the centers has to be lifted to an entirely different level. It has to set new standards in competing with leisure parks, hotels, cinemas, parks and all the other competitors in the new leisure industry.
4.After all, we will need a place making that also communicates these distinct places and that goes beyond established marketing standards and exposes the uniqueness of every single place.
We should not be deluded: When the country and the economy are freed from quarantine, shopping centers will, after a short relief, face the actual struggle for survival. Blessed are those, who are not just mitigating severe symptoms and providing budgets for crisis caused loss of rents but focus on the actual causes and are ready to radically rethink and use the necessary means to develop their real estate in long-term marketable property.
… is Director Leasing Strategy & Brand Cooperation at the dan pearlman Group in Berlin and responsible for retail and real estate clients.